Legal
Solutions for law firms and professional services firms
Firmseek has worked with top-tier firms around the country, such as Irell & Manella, and Sheppard Mullin to help them find innovative business development solutions and maximize their marketing and technology dollars.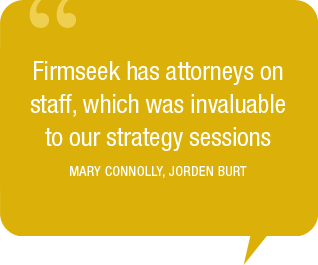 Added to our experience with service firms, we have a unique understanding of what potential clients want and expect from their professional service providers. We've worked closely with Fortune 500 companies in their search for domestic and international service providers. As a result, we bring a unique perspective that translates into user-friendly, client-focused marketing and technology solutions.
A focus on branding and identity
Firmseek's unique positioning and knowledge of the decision patterns of large buyers of legal services gives us meaningful insight and perspective on branding and identity strategy for law firms. We can help your firm create a message and image that resonates with clients.
A focus on targeted marketing efforts
With countless firms in the legal market today, law firm clients are consistently looking for highly targeted information when deciding which firms to hire. Firmseek services are designed with that guiding principle in mind. We help our clients avoid the one-message-fits-all problem with options such as industry-specific attorney biographies and extensive cross-referencing of content for web sites. In addition, we offer custom designed, automated brochures and print materials for different offices, issue areas and practice groups, which can be edited using the Print Pilot.
A focus on recruiting
The candidates most informed about your firm are also visiting your web site. If you're not capturing the information you want from these job seekers while they're visiting your site, you're missing a valuable recruiting opportunity. Why pay thousands of dollars to headhunters when your own web site can give you some of the best candidate leads? With automated application forms and web-based recruiting databases that come with tracking, response and status features, you can make sure that top talent doesn't get away.
A focus on proposals and dynamic print materials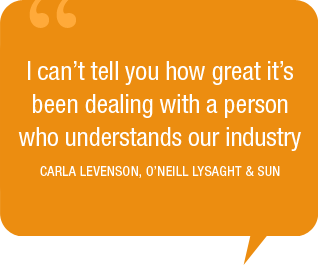 As competition in the legal industry grows, you need to make sure you are using every tool available to impress potential clients. Use the Firmseek Print Pilot to draw information from your web site for pitches and proposals in a polished, custom-designed PDF format. Not only will your proposals look better than ever, but you'll find that it's almost effortless to create documents incorporating up-to-the-minute information about your practice.
A focus on alumni communications
A law firm's alumni can be one of the best sources of new business and and top applicant leads. Keep in touch with your alumni and help them retain a feeling of community with an alumni extranet, where you can post information on alumni events, CLE courses, firm updates, job openings, alumni directory and much more. Let Firmseek help you maximize your return on alumni.