The New York Sun & Common Good
The New York Sun Dedicates Front Page to Common Good Web Project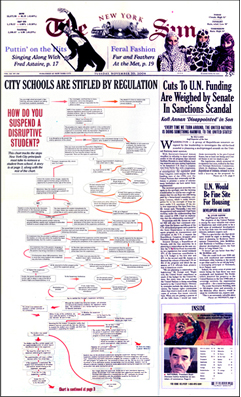 More and more companies and organizations today are competing in a world of too-much-information to draw national attention to a project, cause, or initiative. If you're not a former Vice President with the backing to make a major motion picture, you need to take a strategic approach that is attention-getting and intelligent at the same time.
Faced with this very issue, the public interest organization Common Good called upon Firmseek to spearhead a web project that would demonstrate the burden of law on American schools.
Common Good had found that more than 60 separate sources of laws and regulations, with thousands and thousands of discrete obligations, apply to the typical public high school in New York City.
A "Novel" Approach
Recognizing that thousands of pages of documents conveyed via the web would simply result in information overload for people, Firmseek created Over Ruled, which plays up the concept of "information overload" in an unusual and entertaining web interface illustrating the burden of law on public schools nationwide. Books fall, obscuring a school, and a page counter loses count as the last book falls. Each book corresponds with a separate source of law and links to deep, substantive information about the law/regulation.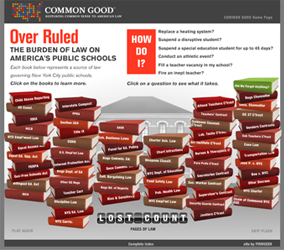 Because even relatively routine decisions can take months to complete in the school system (e.g., suspending a disruptive student involves 65 steps and legal considerations which can take 70 days to complete), the site contains "How Do I?" flowcharts, which illustrate how intimidating and time-consuming procedures can be.
As part of the project, Firmseek made the site dynamic, enabling Common Good staff to update the relevant rules and regulations and even modify the Flash piece itself. Common Good staff can take advantage of all these features on a daily basis using the Firmseek Site Pilot's point-and-click interface. No technical degree required.
Press Coverage for Firmseek's Over Ruled Project for Common Good
Within days of launching the site, Common Good's Over Ruled initiative started to receive public attention nationwide. Not only did The New York Sun dedicate its front page to the project, but numerous other publications covered the initiative.
83 Steps to Fire a N.Y. Teacher, Michelle Garcia, The Washington Post, December 5, 2004
The Burden of Law, Diane Ravitch, Miami Herald, March 1, 2005
You Can't Buy Your Way Out of a Bureaucracy, Op-ed, The New York Times, December 3, 2004
Web Site Tracks Legal Hurdles, Joetta L. Sack, Education Week, January 5, 2004
Fixing Schools, Wholesale, Letters to the Editor, The New York Times, December 6, 2004
Regs Stifle Schools, Study Says, David Andreatta, New York Post, November 30, 2004
An Urgent Call for Reform, Staff Editorial, New York Daily News, May 11, 2005
It's a Red-Tape Jungle for Schools, Joe Williams, New York Daily News, November 30, 2004
Legal Requirements Overwhelm Public Schools, School Board News, December 14, 2004
Unfixing Our Schools, Jack Moseley, Arkansas News Bureau, December 10, 2004

Mission Accomplished: Onto a New Initiative
After the overwhelming success of Over Ruled, Common Good called upon Firmseek to help it develop an interactive site that would demonstrate the chilling effect litigation fear has upon our daily activities. With that mandate, Firmseek created "Seasons of Anxiety," an interactive calendar where the user can flip/curl pages to see how legal fear affects our society throughout the year, from sledding on hills to getting married. The calendar is now helping to bring attention to this important issue and even led to a Brookings-American Enterprise Institute conference on "The Value of Play."